LeafJet Blower GutterPro Attachment
Details
Safely clean out gutter debris while standing on the ground.
Easily connectable tube-kit offers 11 ft. of reach with premium airflow.
Fits the
and other leaf blowers with up to a 5" diameter tube.
Includes (3) Gutter Tube Extensions, (1) Gutter Tube Nozzle, (1) LEAFJET Adapter, (1) Universal Adapter.
Do it Yourself. Do it Better. Do it with Worx. Worx tools are engineered with cutting-edge technology, and above modern efficiency standards, so you can build a cost-effective tool collection that's been designed to last.
Compatibility
Fits all brands of blower/vacs up to 5 in. diameter
(1) - Gutter Tube Assembly
The WA4096 kit allows for universal use on blower/vacs.
-The LeafJet Adapter component is specifically designed to work with the WG543 LeafJet Blower. Note: The WG585 40V LeafJet Blower was not designed to work with the WA4096 GutterPro.
-The Universal Adapter component can be utilized on any blower with a tube diameter, less than, or equal to 5 in.
It's an easy-to-use accessory designed to make cleaning gutters as effortless as possible and without the need for a ladder! Fits on most handheld leaf blowers, to give you an 11-foot reach to blow leaves and debris out of your gutters.
First, remove the current nozzle from your blower. Then the tube sections screw together with the hooked tube at the top, and the universal adapter attaches to your blower. Angle the top into the gutter and turn on your blower. It's that easy!
Included are 4 sections of 2-foot tube and an angled top.
The Universal Gutter Cleaning Kit is designed to fit most handheld leaf blowers, both gas and electric. This accessory will work for you now, and when you upgrade to a WORX blower in the future!
No, but it takes less than 5 minutes to put it together, and it doesn't require any tools.
Even though this is a much safer way to clean your gutters, you should take precautions with every tool. Wear safety eyewear, gloves, appropriate shoes and clothing, and keep hair tied back. Refer to the owner's manual for complete safety info.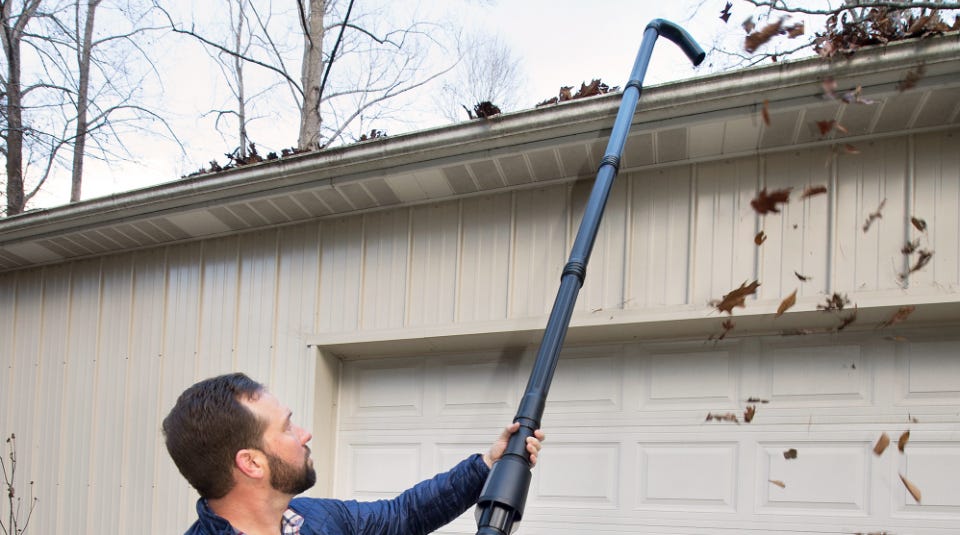 Safer, Cost-Effective Gutter Cleaning
Stop risking life and limb. And stop paying someone else to do it. With the Worx GUTTERPRO, now compatible with your Worx LEAFJET blower, you'll never have to get on a ladder again to clean your gutters.
Frequently Purchased Together