MAKERX Wood & Metal Crafter Stencil and Accessory Kit
3 Year Warranty
30 Day Guarantee
Details
Kit includes 53 assorted Wood & Metal burning tips, 24 stencils, and 2 styluses and is compatible with
.
Includes assorted tips for wood burning, carving, embossing, and soldering.
24pc Stencil set includes stencils for use on wood, leather, and other materials.
2 included styluses used for transferring designs onto any material using carbon paper (carbon paper not included).
Use pencil or transfer paper to outline stencils first, do not use wood and metal crafter directly on stencils.
Includes a plastic storage case to keep all your accessories in one place.
*Wood & Metal Crafter NOT included.
(53) - Wood and Metal Tips
(53) - Wood and Metal Tips
(24) - Stencils
(2) - Styluses
(1) - Case
Yes, other woodburning and soldering tips can be attached to this tool.
If the Wood & Metal Crafter has not been moved for about 5 minutes, the temperature will drop to 400˚F. If the tool remains motionless for another 10 minutes, the tool will shut off all together.
Yes, see the operator's manual for instructions about changing between the Fahrenheit and Celsius scales.
On a fully charged 1.5Ah battery, the Wood & Metal Crafter will stay hot for about 45 minutes of continuous use.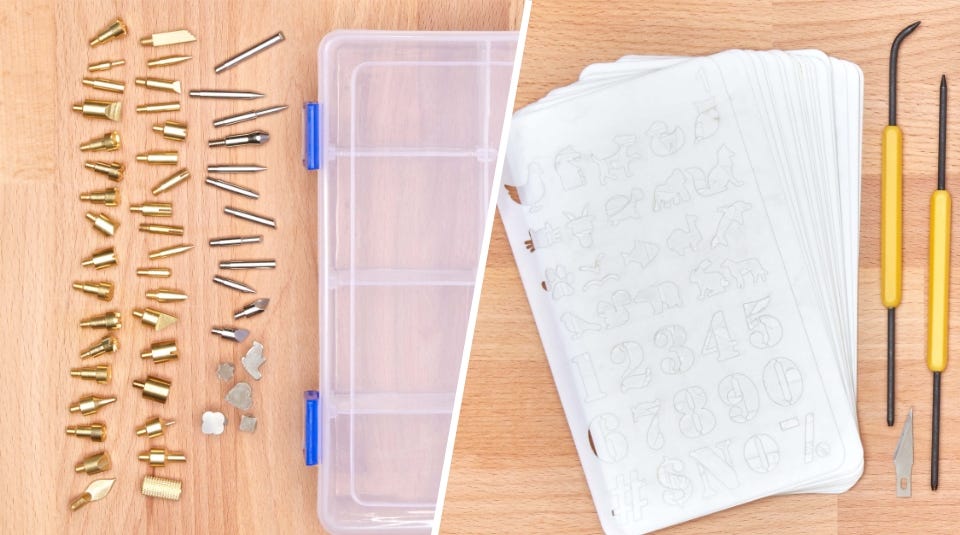 Make Your Mark
Get even more design functionality out of your MAKERX Wood and Metal Crafter with this handy accessory kit. 53 tips for wood burning, soldering, embossing, and carving as well as 2 styluses for transferring designs onto various materials, and 24 stencils to take your crafting to a new level.
Frequently purchased together