Multi-Function Portable Car Jump Starter with USB Charging
3 Year Warranty
30 Day Guarantee
Details
Quick and safe portable car jump starter for gasoline engines up to 4.0L and Diesel engines up to 3.0L

.

Jump starts 12V batteries in motorcycles, ATVs, lawn & garden tractors and marine batteries.

Convenient multi-function jump starter with USB-out charging for tablets, phones and other small electronics.

Dual function LED lighting functions as both a worklight and flashing strobe light for emergencies.

Flexible mounting solutions for under hood or on-car placement of the battery jump starter.

Reverse polarity and spark proof protection.

IP54 sealed water resistant protects against dust and water splashes.

Easily store the portable jump starter in glove compartment, tool-box and other convenient spaces.

Quickly use as a flashlight in low light situations.

Orange pull-out hanger for further mounting flexibility.
Starting Current
500 Amp Peak
Battery Capacity
12,000mAh Li-Polymer
Charging Time
8 Hours (USB)
(1) - 12V Car Charging Cable
Jump starting a completely dead battery is not recommended. It is best for normal jump start applications and charging.
Reverse polarity protection ensures you avoid connecting the wires to the wrong battery terminals.
Yes. It can start any vehicle with a 12V battery.
It is recommended that you recharge the jump starter every 3 months to ensure 100% charge for optimal performance.
The battery is not effected up to 2°F, -17°C.
Yes, you are able to charge both the jump starter and a small electronic device simultaneously .
4.0L gasoline engines are common in cars and SUVs. If you are unsure about your engine size, you can check by looking on the engine itself, checking the owner's manual or looking up your VIN number.
Always read the owners manual. This jump starter has reverse polarity protection but as a rule of thumb, always connect the positive lead first, then the negative.
They both function as a typical jump starter but the multi-function jump starter offers additional features such as LED indicators, flashlights and is more compact and easier to store.
It offers reverse polarity protection which protects both the car and the user from using it incorrectly.
Frequently Purchased Together
A Perfect Travel Companion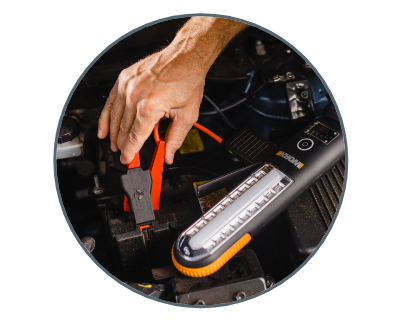 30 Jumps per Charge
This 500 Amps (peak) 1200mAh Li-polymer battery jump gas (4.0L) and diesel (3.0L) engines. It even holds a charge in below-freezing temperatures — it doesn't start losing charge until 2° F, -17° C.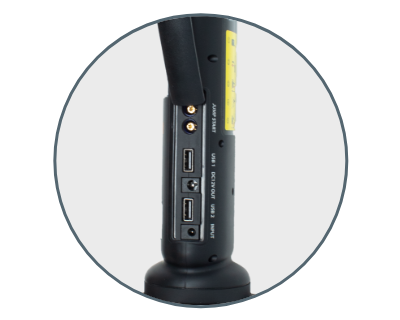 Power for Everything
Getting stranded is stressful enough without having to worry that your phone doesn't have enough charge. With the Multi-function Jump Starter, you'll have an awfully big back-up battery in the trunk.
SOS Strobe Light
Alert other motorists or emergency vehicles that you need assistance. And if you have to take a walk in the dark, it turns into a powerful flashlight, too.