SD Driver w/ Screw Holder
3 Year Warranty
30 Day Guarantee
As low as
$49.99
Regular Price
$49.99
Details
Screw Holder attachment holds screws firmly in place for one-handed operation.
Rapid Reloadable Cartridge allows you to store 6 bits in the tool, eliminating lost bits.
Advance the correct bit with a simple slide-action.
Powerful 4V MaxLithium battery holds a charge for up to 18 months.
Chuck Capacity
1/4 in. HEX
(1) - SD Driver with Screw Holder
(1) - Reloadable Cartridge w/ 6 Bits (PH1, PH2, SL4, SL6, SQ1, SQ2)
This model is battery operated, but the battery is inside the tool. One charger is included with your Cordless SD Driver.
At only 1.1 lbs when loaded with the bit cartridge, the Cordless SD Driver with Screw Holder is the perfectly lightweight, yet versatile and powerful tool and will become an indispensable go-to for any household.
Typical screwdrivers require keeping up with individual bits, which get lost or dropped easily when transitioning from one to another. The Semi-Automatic Driver with rapid bit index is a sure-fire way to shoot through screwdriving tasks around the house. What makes the WX254L Semi-Automatic driver unique is the bits are never lost! The rapid reload cartridge houses 6 common screwdriving bits, making them easy to access and even easier to change. Simply go from drilling a starter hole, to driving a Phillips screw, to driving a flat head screw in a matter of seconds with the semi-automatic bit changer. It's as easy as choosing the bit, rotating the cartridge, and shutting the chamber – you are cocked, locked and ready to drive some screws! When the trigger is pressed, an LED light automatically lights the task for better visibility in dark or hard to reach areas. The compact size allows the SD driver to fit into tight spots where a clunky drill is too big for the task. This SD driver is perfect to keep close at hand in the kitchen junk drawer or handy tool bag.
The WX255L takes the innovation Worx introduced in the SD Semiautomatic Driver (WX254L) one step further by solving one of the biggest problems - dropped screws. The WX255L includes a removable screw holder that will become indispensable in tight work areas. To drive a screw, simply insert it into the screw holder and go to work. As you advance the screw, the holder will open and release it for a clean installation. Removing screws is just as easy. The screwholder will close around the screw as you remove it. No more dropped screws, or trying to contort yourself into tight spaces to hold them in place.
The SD Driver comes with one rapid reload bit cartridge pre-loaded with 6 of the most common 1" long 1/4" hex bits, including one PH1 bit, one PH2 bit, one SL4 bit, one SL6 bit, one SQ1 bit, and one SQ2 bit. You can customize your cartridge with any 1" long 1/4" hex bits, which can be purchased at any local hardware or home improvement store.
The Worx SD Driver makes changing bits fun. To change the bit to another in the same bit cartridge, slide the cover on the top of the SD Driver back and slide it forward again to expose next bit in the bit cartridge chamber. You can also slide the cover back and manually turn the bit cartridge to the desired bit before closing the cover to advance it.
To change the bit cartridge, slide the cover on top of the SD Driver back, and press against the underside of the orange bit cartridge. It will pop out. You can customize the cartridge by replacing any of the bits with 1" long 1/4" hex shank screwdriver bits.
The battery will recharge in about 5 hours.
Yes, there's an LED light to help you see what you're working on.
You can download the manual here.
Carefully review the owner's manual for all safety information and guidelines. Follow safety precautions while using any power tools – including wearing safety eyewear, gloves, appropriate shoes & clothing, and keeping hair tied back. See the owner's manual for complete safety instructions and details.
If you decide the Worx SD Driver with Screw Holder isn't right for you, we offer a 30-day Money Back Guarantee from date of receipt (less shipping and handling). View more information here.
We know your tools are indispensable, so we cover each tool with a 2 Year Limited Consumer Warranty. You can extend your warranty to 3 years by registering online within 30 days of purchase. Already have your SD Driver? Register now!
Parts subject to normal wear and tear are not covered by the tool's warranty. View more information on our warranty here.
Lose your charger? Many accessories are available online under Accessories.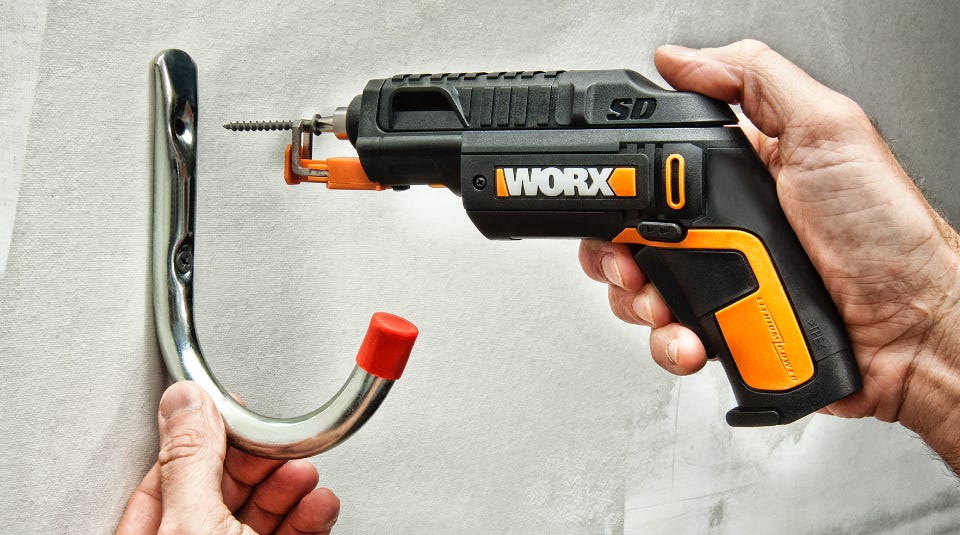 ONE HANDY DRIVER
The WORX Semi-Automatic Driver with Screw Holder is the most convenient cordless screwdriver ever. Bits are stored directly on the tool, so they are never lost.
FREQUENTLY PURCHASED TOGETHER