SD Driver / Step Stool Combo
3 Year Warranty
30 Day Guarantee
Details
Combo kit features 13 in. Storage Step Stool and 4V SD Driver with screw holder.
SD driver features screw holder attachment that holds screws firmly in place for one-handed operation.
Rapid reloadable cartridge on SD driver allows you to store 6 bits in the tool, eliminating lost bits.
Powerful 4V Max Lithium battery on SD driver holds a charge for up to 18 months.
13 in. step stool features handle, deep storage area with metal lock, and pull out drawer for accessory storage.
Step stool and tool storage container features a standing weight capacity of 324 lbs. and holds up to 28 lbs. of tools onboard.
WX255L TECHNICAL SPECIFICATIONS
Chuck Capacity
1/4 in. Hex
WA4214 TECHNICAL SPECIFICATIONS
Standing Weight Capacity
324 lbs.
(1) - 4V SD Semiautomatic Driver
(1) - Reloadable Catridge with 6 Bits (PH1, PH2, SL4, SL6, SQ1, SQ2)
(1) - Screw Holder Attachment
This model is battery operated, but the battery is inside the tool. One charger is included with your Cordless SD Driver.
Typical screwdrivers require keeping up with individual bits, which get lost or dropped easily when transitioning from one to another. The Semi-Automatic Driver with rapid bit index is a sure-fire way to shoot through screwdriving tasks around the house. What makes the WX254L Semi-Automatic driver unique is the bits are never lost! The rapid reload cartridge houses 6 common screwdriving bits, making them easy to access and even easier to change. Simply go from drilling a starter hole, to driving a Phillips screw, to driving a flat head screw in a matter of seconds with the semi-automatic bit changer. It's as easy as choosing the bit, rotating the cartridge, and shutting the chamber – you are cocked, locked and ready to drive some screws! When the trigger is pressed, an LED light automatically lights the task for better visibility in dark or hard to reach areas. The compact size allows the SD driver to fit into tight spots where a clunky drill is too big for the task. This SD driver is perfect to keep close at hand in the kitchen junk drawer or handy tool bag.
The SD Driver comes with one rapid reload bit cartridge pre-loaded with 6 of the most common 1 in. long 1/4 in. hex bits, including one PH1 bit, one PH2 bit, one SL4 bit, one SL6 bit, one SQ1 bit, and one SQ2 bit. You can customize your cartridge with any 1 in. long 1/4 in. hex bits, which can be purchased at any local hardware or home improvement store.
The Worx SD Driver makes changing bits fun. To change the bit to another in the same bit cartridge, slide the cover on the top of the SD Driver back and slide it forward again to expose next bit in the bit cartridge chamber. You can also slide the cover back and manually turn the bit cartridge to the desired bit before closing the cover to advance it.
To change the bit cartridge, slide the cover on top of the SD Driver back, and press against the underside of the orange bit cartridge. It will pop out. You can customize the cartridge by replacing any of the bits with 1 in. long 1/4 in. hex shank screwdriver bits.
The battery will recharge in about 5 hours.
Yes, there's an LED light to help you see what you're working on.
The WORX Storage Step Stool is 13 in. tall, and has a footprint of 14.5 in. x 10.5 in., making it big enough for use as a stable and steady step stool. The top is grooved for secure footing and traction during use, and the handle is inlaid to keep it out of the way when not needed for transportation.
The WORX Storage Step Stool has an external load capacity of 324 lbs. It can carry up to 28 lbs of tools, making it an ideal place to stash those must-have tools you need in a pinch.
The internal storage compartment is 14.25 in. x 10.25 in. and 5.5 in. deep. This means you can fit a wide variety of hand tools, including any of the WORX Oscillating Tools, WORX Compact Circular Saw, Switchdriver and more! The pull out tray under the main storage compartment is 8.5 in. x 9 in. x 2.75 in. and is ideal for your tool accessories, or even small tools, like the WORX SD Driver. You can store up to 28 lbs. of tools in your WORX Storage Step Stool between the two available compartments.
For durability and strength, the Storage Step Stool is made out of nylon resin. The latch to secure the internal storage compartment is metal.
Frequently Purchased Together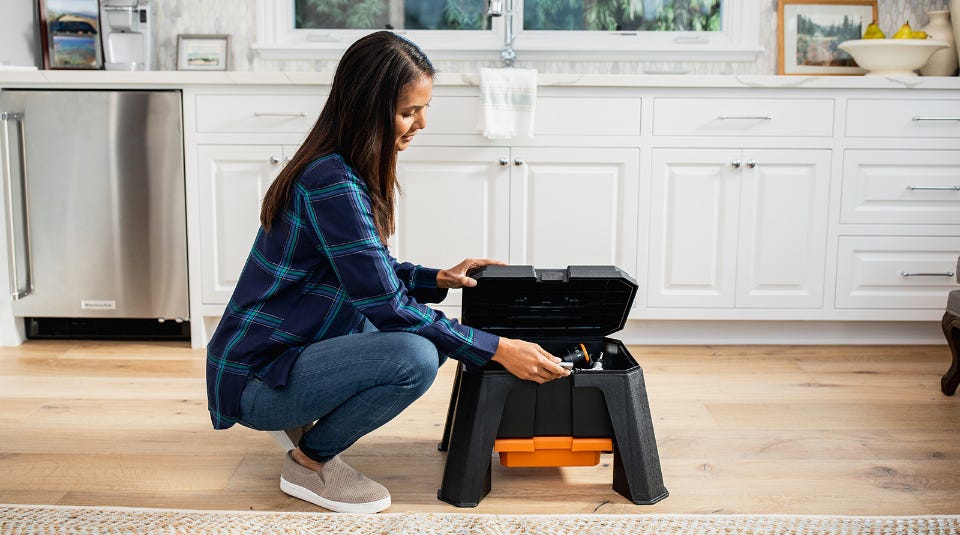 Step it up
Add an extra 13 in. to your reach and store your tools right in the lid. The multi-functional Storage Step Stool has a spacious storage area as well as a pull out drawer to hold your accessories.