20V Power Share Cordless Oscillating Multi-Tool
3 Year Warranty
30 Day Guarantee
As low as
$0.00
Regular Price
$0.00
Details
Powerful and lightweight MaxLithium battery delivers long-lasting performance
Universal Fit System accepts all other brand's accessories
Provides multiple functions that include cutting, sawing, sanding, scraping, polishing, shaping and grout removal
Variable speed dial for precision control
Enter Label Name
Enter Value
Enter Label Name
Enter Value
Enter Label Name
Enter Value
Enter Label Name
Enter Value
Enter Label Name
Enter Value
Enter Label Name
Enter Value
Lorem Ipsum is simply dummy text of the printing and typesetting industry. Lorem Ipsum has been the industry's standard dummy text ever since the 1500s, when an unknown printer took a galley of type and scrambled it to make a type specimen book. It has survived not only five centuries, but also the leap into
Lorem Ipsum is simply dummy text of the printing and typesetting industry. Lorem Ipsum has been the industry's standard dummy text ever since the 1500s, when an unknown printer took a galley of type and scrambled it to make a type specimen book. It has survived not only five centuries, but also the leap into
Lorem Ipsum is simply dummy text of the printing and typesetting industry. Lorem Ipsum has been the industry's standard dummy text ever since the 1500s, when an unknown printer took a galley of type and scrambled it to make a type specimen book. It has survived not only five centuries, but also the leap into
Lorem Ipsum is simply dummy text of the printing and typesetting industry. Lorem Ipsum has been the industry's standard dummy text ever since the 1500s, when an unknown printer took a galley of type and scrambled it to make a type specimen book. It has survived not only five centuries, but also the leap into
Lorem Ipsum is simply dummy text of the printing and typesetting industry. Lorem Ipsum has been the industry's standard dummy text ever since the 1500s, when an unknown printer took a galley of type and scrambled it to make a type specimen book. It has survived not only five centuries, but also the leap into
Lorem Ipsum is simply dummy text of the printing and typesetting industry. Lorem Ipsum has been the industry's standard dummy text ever since the 1500s, when an unknown printer took a galley of type and scrambled it to make a type specimen book. It has survived not only five centuries, but also the leap into
Lorem Ipsum is simply dummy text of the printing and typesetting industry. Lorem Ipsum has been the industry's standard dummy text ever since the 1500s, when an unknown printer took a galley of type and scrambled it to make a type specimen book. It has survived not only five centuries, but also the leap into
Lorem Ipsum is simply dummy text of the printing and typesetting industry. Lorem Ipsum has been the industry's standard dummy text ever since the 1500s, when an unknown printer took a galley of type and scrambled it to make a type specimen book. It has survived not only five centuries, but also the leap into
CALIFORNIA PROPOSITION 65 WARNING:
This product can expose you to chemicals including lead, phthalate or bisphenol A which are known to the State of California to cause cancer, birth defects or other reproductive harm. Wash your hands after use. For more information go to www.P65Warnings.ca.gov.
PROPOSITION 65 DE LA CALIFORNIE AVERTISSEMENT:
Ce produit peut vous exposer à des produits chimiques, incluant au plomb, au phtalate ou au bisphénol A, qui sont reconnus dans l'Ètait de Californie comme pouvant causer un cancer, des anomalies congénitales ou d'autres dommages à l'appareil reproducteur. Assures-vous de bien vous laver les mains après usage. Pour en savoir plus, veuillez consulter le site www.P65Warnings.ca.gov.
FREQUENTLY PURCHASED TOGETHER
ONE TOOL, ENDLESS PROJECTS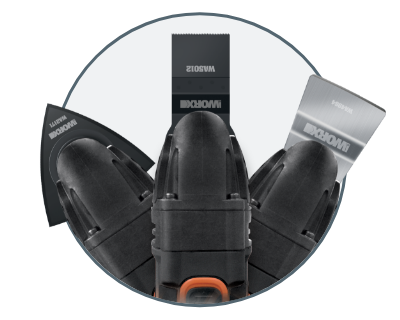 Cut, Sand Or Saw
Made for small spaces, the ergonomic design gives you the control you need for precise work, but in a streamlined form-factor that's perfect for any job and goes almost anywhere.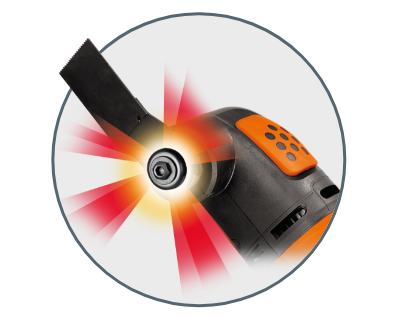 Universal Fit
This patented system accepts all oscillating accessories so you always have a blade for the task at hand.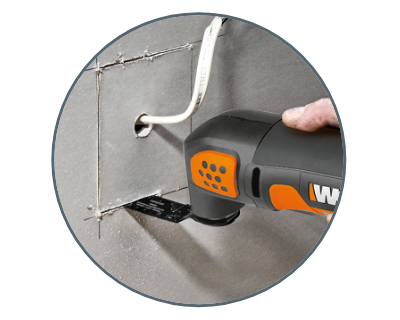 18,000 Oscillations/min
This tool is powerful enough to cut through a variety of materials with incredible precision.