26-Piece Oscillating Tool Accessory Kit
3 Year Warranty
30 Day Guarantee
Details
The Universal Fit System works with all popular brands of oscillating tools.
The set includes accessories needed to saw, cut, scrape, sand, and more.
Contents are 3 Wood cutting end cut blades, 1 HSS Semicircle saw blade, 1 rigid Scraper, 20 Sanding sheets, and adapter for cordless Dremel and Bosch tools.
(3) - Wood Cutting End Cut Blades
(1) - HSS Semicircle Saw Blade
(1) - Adapter for Cordless Dremel and Bosch Tools
This kit includes a variety of replacement accessories designed for the Worx Oscillating Multi-Tool line of products. The accessories included in this kit will fit any Worx model Oscillating Multi-Tool, and with their Universal Fit System design, they will fit most popular brands of Oscillating Tools.
In this kit, you will receive:
(3) - WOOD CUTTING END CUT BLADES - for cutting wood and soft plastics
(1) - HSS SEMICIRCLE SAW BLADE - for cutting thin wood, plastic, fiberglass, non-ferrous metals, thin sheet metal, hardened fillers, and window glazing
(1) - RIGID SCRAPER - for removing old paint, hardened adhesives, caulk, and carpet
(20) - SANDING SHEETS - for typical sanding applications
(1) - ADAPTER FOR CORDLESS DREMEL AND BOSCH TOOLS
The blades are made of quality materials and designed to offer optimum performance for as long as possible. Actual wear rate will depend on the application, materials and user technique. Always use the accessory for its intended purpose, and allow the Worx Oscillating Multi-Tool to do the work without excessive force or pressure.
Attachment methods can vary by model. For specific instructions and safety information, please refer to your owner's manual.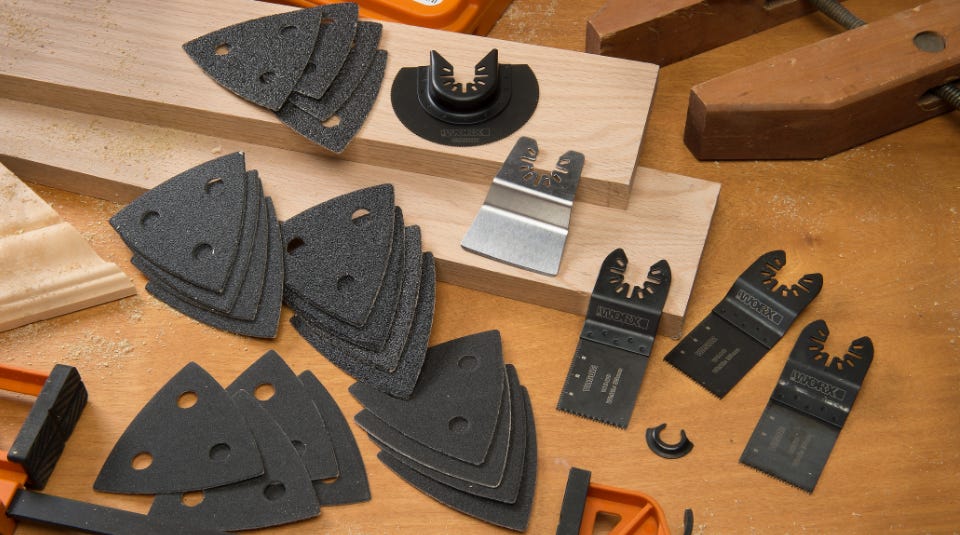 26-Piece Oscillating Tool Accessory Kit
CUT, SAND, SAW, SCRAPE
With this 26 piece oscillating accessory kit you've got everything you need to saw, cut, scrape, sand and more on a variety of different materials. And the Universal Fit System means you can use these accessories with all popular brands of oscillating tools.
FREQUENTLY PURCHASED TOGETHER