20V Power Share 5" Cordless Pruning Saw
20V Power Share 5" Cordless Pruning Saw
is rated out of
5
by
322
.
3 Year Warranty
30 Day Guarantee
As low as
$159.99
Regular Price
$99.99
Details
Powerful, compact, and versatile saw for pruning, trimming, delimbing, and bucking.
Offset bar and chain for improved line-of-sight.
Onboard tool for fast & easy chain tensioning.
Retractable bar and chain guard for enhanced under-cutting capabilities.
Guarded handle design for added safety and security.
Same Battery, Expandable Power. The same battery powers over 75+ 20V, 40V, and 80V lifestyle, garden, and power tools in the Power Share™ family.
Chain Speed
18.4 ft/s (5.6 m/s)
Chain Gauge
0.043 in. I 28 links
Unit Weight
3.86 lbs. I 3.04 lbs. (bare)
(1) - 20V Power Share 5" Pruning Saw
(1) - 2.0Ah Battery (WA3575)
(1) - 2A Charger (WA3881)
The WG324 cordless pruning saw is an extremely compact and versatile saw for pruning bushes, trimming limbs, delimbing fell trees, bucking fell trees, and more.
The WG324 cordless pruning saw is extremely efficient and easy to use. It is less intimidating than a traditional chainsaw as its compact design makes it more maneuverable and manageable in tighter spaces for intricate cuts. The compact size also allows for enhanced portability for on-the-go pruning and cutting, such cutting logs for the campfire, clearing paths while hunting, or maintaining properties. Also, the guarded bar & chain, as well as handle, provide added protection and security for the user.
The retractable bar & chain guard automatically retracts out of the way when pruning or cutting from above. When under-cutting is necessary, the user can manually retract the guard to cut upward, from under the branch, etc.
The bar & chain needs to be manually oiled with any standard chainsaw bar & chain oil. Liberally apply oil to the chain in a similar manner to oiling a bicycle chain.
Once applied, press the trigger to run the saw for a few seconds so the oil can fully cover the chain. Repeat as needed.
Oiling the bar & chain before every use (and throughout longer cutting sessions) will drastically improve performance and tool life.
Rough, grinding sounds during operation and frequent jamming/binding when cutting may be a sign more oil needs to be added.
3-Year warranty on the tool.
Frequently purchased together
Conveniently Prune, Trim & Delimb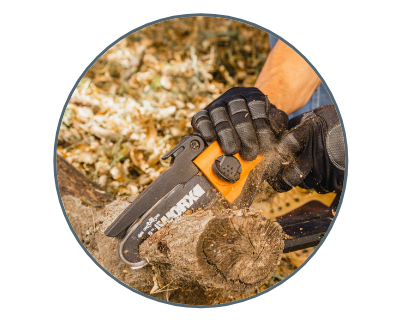 Small But Mighty
The ultra-compact design allows the user to hold this cordless pruning saw up high for longer and to get into tighter spaces than you could with a full-size chain saw.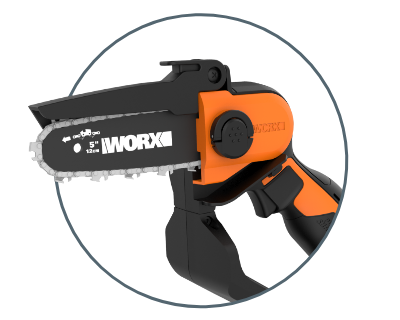 See the Cut
The offset bar & chain lets you see exactly what and where you're cutting or pruning. More precision and efficiency so you can get more done and do a better job.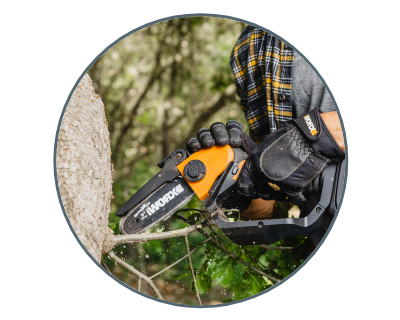 On-The-Go Versatility
Perfect for on-the-go cutting such as cutting campfire logs, clearing paths while hunting, or maintaining properties.