20V TURBINE Two Speed Cordless Leaf Blower
3 Year Warranty
30 Day Guarantee
As low as
$89.99
Regular Price
$89.99
Details
Cordless TURBINE leaf blower comes with (2) 20V Power Share™ batteries so you can easily swap batteries and finish clearing your whole yard with no downtime.
TURBINE fan technology delivers forceful, high-capacity air volume. 270-360 CFM.
Only 5.7 lbs, for easy one-handed operation.
Dynamic airflow intake makes this a quiet cordless leaf blower.
Easy tool-free assembly.
2-Speed control to switch between lighter & tougher jobs.
Comes with (2) 2.0Ah Power Share™ batteries.
Same Battery, Expandable Power. The same battery powers over 75+ 20V, 40V, and 80V lifestyle, garden, and power tools in the Power Share™ family.
(1) - TURBINE 20V Leaf Blower
(2) - 20V Max Lithium Batteries
(1) - 20V Battery Charger
This two-speed cordless leaf blower comes with two (2) 20V Power Share 2.0ah batteries and a charger.
Yes, with WORX Power Share™, you can share the battery and save money. You can use any WORX 20V MAX Power Share battery you already have. By sharing the battery between tools, you'll always have the power you need to complete any job.
Worx has an entire line of Turbine two-speed leaf blowers, some of which are battery operated and some of which are electric to offer the solution that best meets your needs.
CFM stands for "cubic feet per minute" and is the measurement of air flow that is used to describe the volume of air that the blower is capable of moving. The higher the CFM, the more air the blower is capable of pushing through the tube.
This blower does not include a vacuum or mulching feature. However, we do offer a large lineup of 3-in-1 Blower, Mulcher, Vacuums for your yard work demands.
Each two-speed cordless leaf blower comes with some minor assembly required, but takes less than 3 minutes and will not require tools.
This model (WG547.2) comes with two 2.0Ah batteries and the WG547 model only comes with one 2.0Ah battery.
BLOW THEM AWAY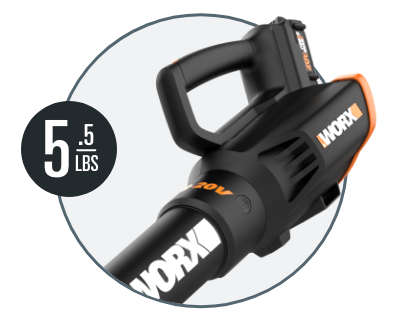 LIGHTWEIGHT
It's only 5.5 lbs, even with the battery attached, so you can operate one-handed with no fatigue.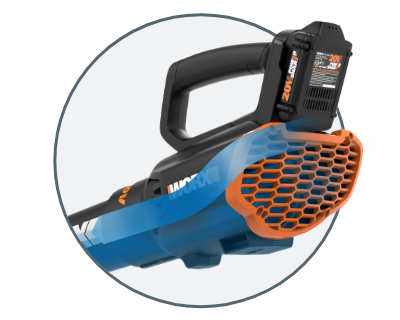 TURBINE TECH
WORX TURBINE uses the same technology as jet engines and delivers forceful, high-capacity air volume to show those leaves who's boss.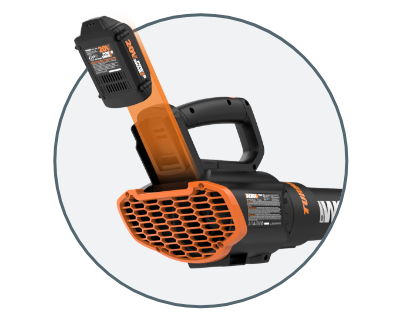 SHARE THE POWER
The 20V Max Lithium battery can be shared with any other garden or power tool in the WORX Power Share family.