67-Piece Drill Bit Accessory Kit (Discontinued)
3 Year Warranty
30 Day Guarantee
Details
Includes a variety of accessories for all of your drilling and driving needs.
Durable HSS bits for metal, wood, plastic and aluminum.
Includes both Metric and SAE sockets, as well as tile bits, paddle bits, power screw driving bits and more.
Features a durable roll-up case for easy storage and transportation.
Product NOT compatible with Switchdriver (WX176L).
(12) - Round Shank HSS Drill Bits (1/16 x2, 5/64", 3/32", 7/64", 1/8", 9/64", 5/32", 3/16", 1/4", 5/16", 3/8")
(4) - Paddle Bits (3/8", 1/2" 3/4", 1")
(4) - Tile Bits (1/8", 3/16", 1/4", 5/16")
(17) - 1" Screwdriver Insert Bits (PH0, PH1, PH2, PH3; SQ1, SQ2, SQ3; 4-6, 6-8, 8-10 Slotted; T10, T15, T20, T25; 4, 5, 6 Allen Bits)
(1) - 1/4" Magnetic Bit Holder
(7) - 2" Power Screwdriving Bits (PH1, PH2, PH3, SL6, SL4, SQ1, SQ2)
(2) - 6" Extended Length Power Bits (PH2 & 8-10 Slotted)
(3) - Nut Drivers (1/4", 5/16", 3/8")
(8) - 1/4" Drive SAE Sockets (9/32", 5/16", 11/32", 3/8", 13/32", 7/16", 15/32", 1/2")
(8) - 1/4" Drive Metric Sockets (6mm, 7mm, 8mm, 9mm, 10mm, 11mm, 12mm, 13mm)
These have a nominal round shank up to 3/8".
These bits are durable HSS and designed for use in metal, wood, plastic and aluminum.
Carefully review your tool's owner's manual for all safety information and guidelines for using the Worx Bladerunner. Follow safety precautions while using any power tools – including wearing safety eyewear, gloves, appropriate shoes & clothing, and keeping hair tied back. See the owner's manual for complete safety instructions and details.
If you decide the Worx 67-Piece Drill Bit Accessory Kit isn't right for you, we offer a 30-day Money Back Guarantee from date of receipt (less shipping and handling). View more information here.
Parts subject to normal wear and tear are not covered by the tool's warranty. View more information on our warranty here.
Need additional accessories? Many replacement parts are available on worx.com. You can also contact our friendly customer service team is ready to get you back up and running.
CALIFORNIA PROPOSITION 65 WARNING:
This product can expose you to chemicals including lead, phthalate or bisphenol A which are known to the State of California to cause cancer, birth defects or other reproductive harm. Wash your hands after use. For more information go to www.P65Warnings.ca.gov.
PROPOSITION 65 DE LA CALIFORNIE AVERTISSEMENT:
Ce produit peut vous exposer à des produits chimiques, incluant au plomb, au phtalate ou au bisphénol A, qui sont reconnus dans l'Ètait de Californie comme pouvant causer un cancer, des anomalies congénitales ou d'autres dommages à l'appareil reproducteur. Assures-vous de bien vous laver les mains après usage. Pour en savoir plus, veuillez consulter le site www.P65Warnings.ca.gov.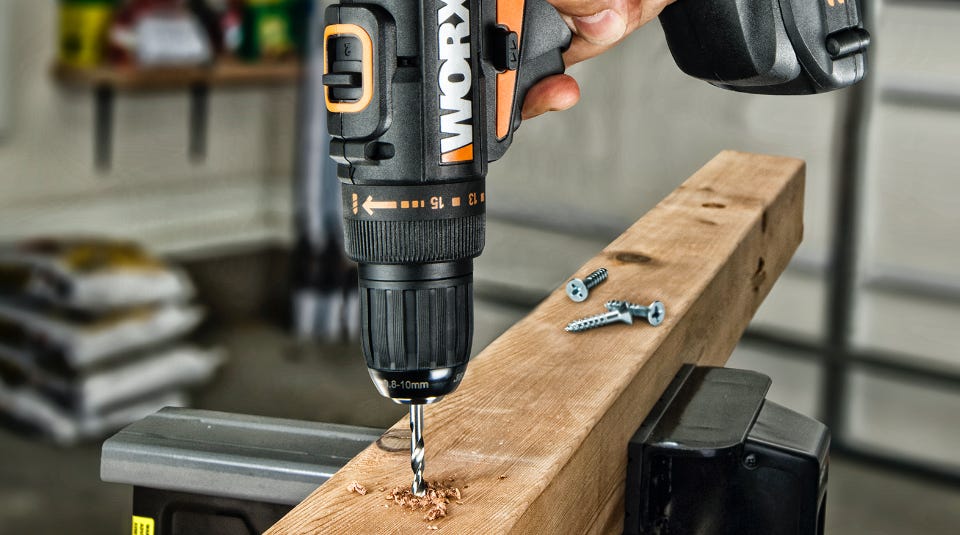 A BIT FOR EVERY PROJECT
Perfect for the WORX Ai Drill or the 20V Cordless Drill & Driver. Tackle any project in almost any material.
FREQUENTLY PURCHASED TOGETHER