20V MAKERX 2pc Rotary Tool + Wood/Metal Crafter Combo Kit
3 Year Warranty
30 Day Guarantee
Details
MAKERX multi-tool combo kit featuring rotary tool and wood burning/soldering tool attachments.
Rotary tool accepts standard bits from all brands.
Rotary tool features compact brushless motor providing more power and a longer runtime when compared to non-brushless motors.
Wood burning tool/soldering iron quickly reaches target heat in just 30 seconds.
Wood burning tool/soldering iron features precise digital temperature control from 400°-900° F for wood, soldering and metal crafting projects.
Both tools feature a micro-ergonomic design which enhances overall user control and comfort.
Hub + 4 ft. Flex Cord provides 20V of Power Share performance—compatible with every tool on the MAKERX platform.
Multi-tool combo kit includes 54 accessories, storage bag, accessories storage case, 20V Power Share battery, charger, and the MAKERX Hub.
WX743L.9 TECHNICAL SPECIFICATIONS
WX744L.9 TECHNICAL SPECIFICATIONS
Max Temperature
400°F- 900°F (200°C-480°C)
Battery Type
0.12 lbs. (54 g)
(6) - Assorted Woodburning Tips
(4) - Assorted Soldering Tips
(1) - Silicon Comfort Sleeve
A fully charged 1.5Ah battery will power the Heat Gun for about 10
minutes of continuous use.
6 Assorted Woodburning Tips
4 Assorted Smoldering Tips
1 Cradle Stand
1 Silicon Comfort Sleeve
Yes, other woodburning and soldering tips can be attached to this tool.
If the Wood & Metal Crafter has not been moved for about 5 minutes, the temperature will drop to 400˚F. If the tool remains motionless for another 10 minutes, the tool will shut off all together.
Yes, see the operator's manual for instructions about chaning between the Fahrenheit and Celsius scales.
On a fully charged 1.5Ah battery, the Wood & Metal Crafter will stay hot for about 45 minutes of continuous use.
Accessorize

Turn Up the Heat, Turn Up the Speed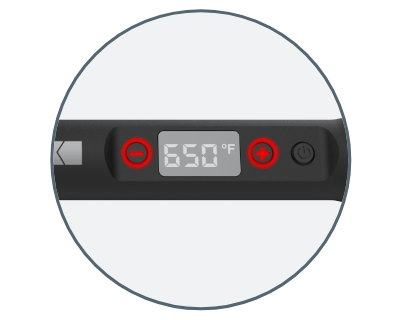 Precise Temp Control
The digital setting on the Wood & Metal Crafting Tool lets you pick just the right temp. for the project, from 0-900°F.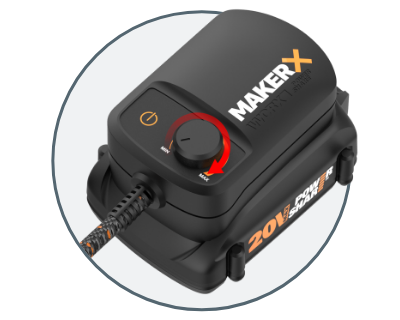 Variable Speed Control
The Rotary Tool goes from 5,000-35,000 RPM, which you can control right from the Hub. Get the speed you need for a variety of tasks.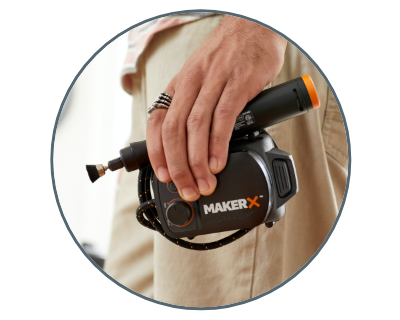 Take Your Power with You
The Hub goes where your tool goes. That's 20V of portable power that doesn't need to be near an outlet.