Ultimate Car Care Kit
is rated out of
5
by
2
.
3 Year Warranty
30 Day Guarantee
Details
Car care kit includes
, , and .
High-Pressure 20V Portable Air Pump —Provides up to 150 PSI, perfect for inflating tires, sports balls and other small inflatables.
10 in. Orbital polisher & buffer delivers 3000 RPM for swirl-free finishes on cars, boats, and more.
Quick and safe portable jump starter for gasoline engines up to 4.0L, Diesel engines up to 3.0L, and 12V batteries in motorcycles, ATV's, lawn and garden tractors, and marine batteries.
Multi-function jump starter includes emergency strobe light and USB-out charging for tablets, phones and other small electronics.
Ultimate Car Care Kit includes (1) 2.0Ah 20V PowerShare battery and (1) 4A charger.
Same Battery, Expandable Power. The same battery powers over 75+ 20V, 40V, and 80V lifestyle, garden, and power tools in the Power Share™ family.
WX856L TECHNICAL SPECIFICATIONS
WX852L TECHNICAL SPECIFICATIONS
Starting Current
500 Amp Peak
Battery Capacity
12,000mAh Li-Polymer
Charging Time
8 hrs. (USB)
WX092L TECHNICAL SPECIFICATIONS
Capacity
(1) - 2.0Ah Battery
Inflating Efficiency
215/55R17 tire from 0 to 36 PSI in 4 mins 5 seconds
Inflate per Charge
4.5 pc 215/55R17 tires per 2.0Ah
(1) - 20V Portable Inflator (WX092L)
(1) - 10" Polisher/Buffer (Tool Only) (WX856L.9)
(1) - Multi-Function Portable Car Jumpstarter with USB Charging (WX852L)
(1) - 2.0Ah 20V Power Share Battery
Frequently purchased together
A Perfect Travel Companion
30 Jumps Per Charge
This 500 Amps (peak) 1200mAh Li-polymer battery jump gas (4.0L) and diesel (3.0L) engines. It even holds a charge in below-freezing temperatures — it doesn't start losing charge until 2° F, -17° C.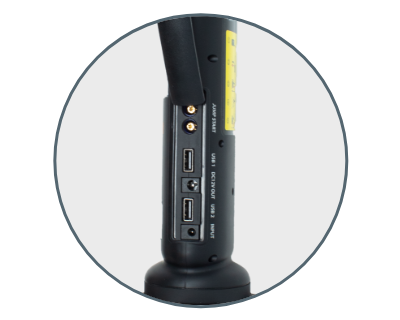 Power for Everything
Getting stranded is stressful enough without having to worry that your phone doesn't have enough charge. With the Multi-function Jump Starter, you'll have an awfully big back-up battery in the trunk.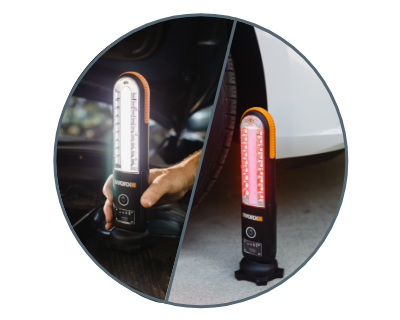 SOS Strobe Light
Alert other motorists or emergency vehicles that you need assistance. And if you have to take a walk in the dark, it turns into a powerful flashlight, too.
Professional-Grade Polish in Your Own Driveway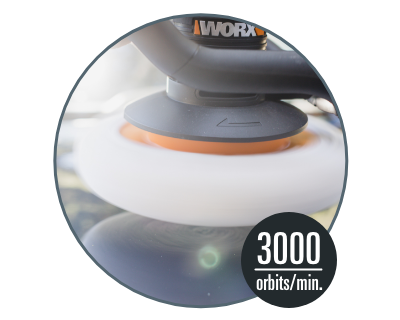 Powerfully Clean
3000 orbits/min combined with a wide 10 in. diameter bonnet are specs that will give you a more thorough polish, in less time than smaller, slower buffers.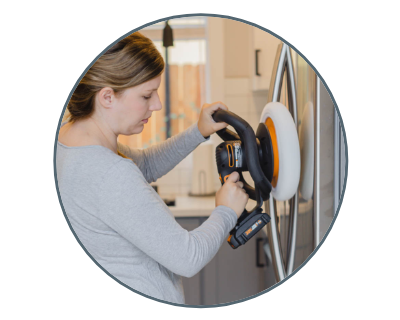 Buff the Whole House
This buffer is great for bringing out the shine in floors and countertops and for making bathroom and kitchen fixtures look like new.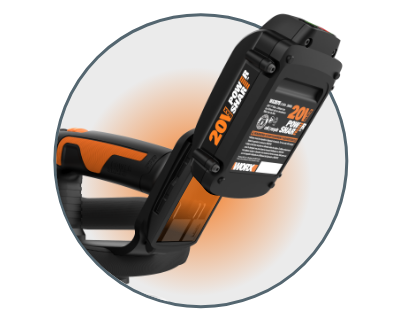 Cordless is the Better Way to Go
Most home buffer/polishers are limited by cords. This one is ultra-portable so you are never tied to an outlet.
Powerful, Precise, Peace of Mind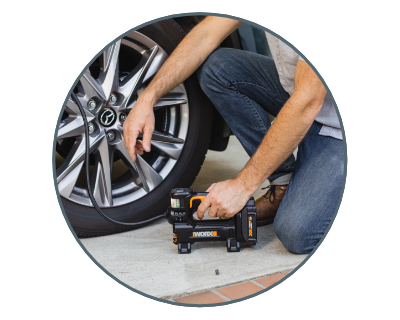 Provides 150 PSI
It'll fill up all 4 car tires on a single charge from 0-36 PSI, in about 4 minutes for each tire.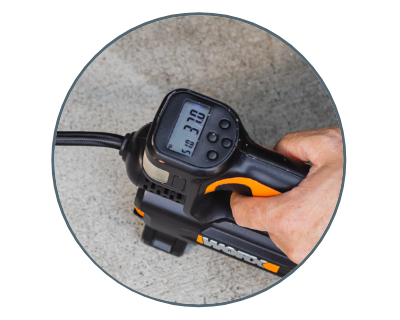 Sets the Pressure Exactly
Look up the recommended PSI and dial it in to the Digital LED Gauge. This inflator will take care of the rest.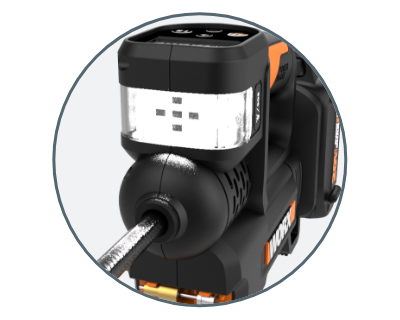 Sometimes You Need a Hand
The 100-200 Lumens LED Light lets you see what you're doing, but if you've called a tow truck or need assistance, the red and yellow flashing function comes in handy.