4-1/2" WORXSAW 4.5 Amp Compact Circular Saw
3 Year Warranty
30 Day Guarantee
Details
The new Worxsaw is slimmer than ever before and features a brand new ergonomic design for smooth and easy one-hand operation.
Weighing in at a mere 4 lbs. and packed with 4000 RPMs, it offers portable, powerful performance second to none.
Equipped with quick and easy cutting depth adjustment and a spindle lock for fast and easy blade change, you'll be slicing through 2" thick lumber faster than you can say timber.
Dust extraction with dust port improves breathable air quality.
Bevel Capacity
0-45 degrees
The new compact circular saw is slimmer and more powerful featuring increased motor power enclosed in a brand new ergonomic slim-body design.
Compact circular saws have smaller diameter blades and are easy to handle. The 4.5 in. blade has a kerf that is less than half the thickness of larger 7.25 in. circular saw blades. Smaller, thinner blades take less effort to cut through up to 2 in. thick materials. With the handle behind the blade, these saws offer excellent cut-line visibility and maneuverability.
This compact circular saw uses any 4.5 in. circular saw blades with a 3/8 in. arbor.
This compact circular saw is capable of bevel cuts up to 45 degrees, at thicknesses up to 1-1/8 in. at a 45 degree bevel. You can also plunge and pocket cut up to 1-11/16 in. thickness.
Included is a carbide-tipped, 24T, wood cutting blade. Other blades are available to cut a variety of different materials. Make sure to choose the correct blade for the material and saw size.
The parallel guide installs on your saw for confident parallel cuts. After installation, you can adjust the width up to 7 in. to easily rip straight, flush cuts.
This saw includes a spindle lock button and hex key for easy blade changes. Reference the manual for safe blade changes.
Yes, help keep your workspace clean with onboard vacuum port and included adaptor.
Our tools are designed with safety features to protect you against accidental starts. There is a safety switch which must be engaged before the on/off switch will work. Once the saw starts, you can release the safety switch and the saw will continue to run.
The power cord is 6.5 ft. long.
CALIFORNIA PROPOSITION 65 WARNING:
This product can expose you to chemicals including lead, phthalate or bisphenol A which are known to the State of California to cause cancer, birth defects or other reproductive harm. Wash your hands after use. For more information go to www.P65Warnings.ca.gov.
PROPOSITION 65 DE LA CALIFORNIE AVERTISSEMENT:
Ce produit peut vous exposer à des produits chimiques, incluant au plomb, au phtalate ou au bisphénol A, qui sont reconnus dans l'Ètait de Californie comme pouvant causer un cancer, des anomalies congénitales ou d'autres dommages à l'appareil reproducteur. Assures-vous de bien vous laver les mains après usage. Pour en savoir plus, veuillez consulter le site www.P65Warnings.ca.gov.
FREQUENTLY PURCHASED TOGETHER
POWERFUL, PORTABLE PERFORMANCE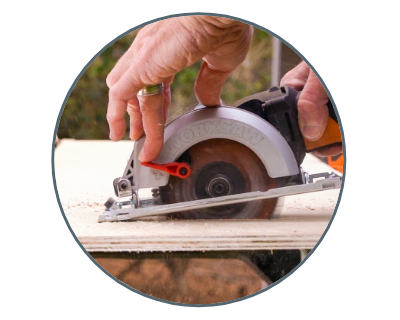 ERGONOMIC DESIGN
Light and easy to control to make even more precise cuts.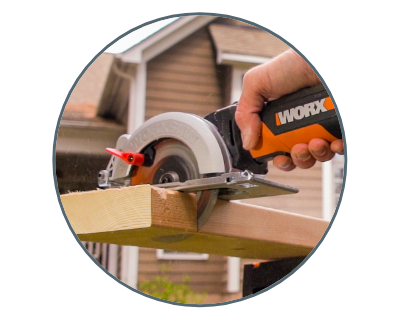 PACKED WITH POWER
Weighing in at only 4 lbs, this saw is packed with 4,000 rpms giving it the same power as a standard circular saw, but at half the weight.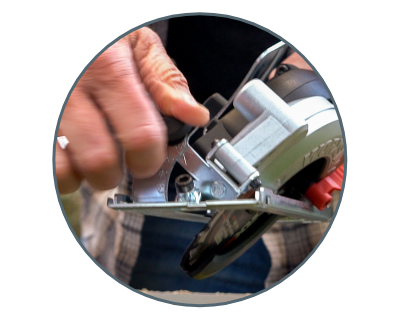 PERFECT FOR BEVEL CUTS
Easy-set depth gauge lever & 0-45° bevel settings make a variety of cuts easy to do.