20V MAKERX Rotary Tool - Tool Only
20V MAKERX Rotary Tool - Tool Only
is rated out of
5
by
1
.
3 Year Warranty
30 Day Guarantee
As low as
$0.00
Regular Price
$0.00
Details
20V Rotary Tool for use with the MAKERX system of portable crafting tools.
Compact brushless motor offers a longer runtime and more power over non-brushless motors.
Variable speed control with up to 35,000 RPM offers precise control for a wide array of crafting projects.
Universal fit system accepts other brands of rotary tool bit accessories.
Micro-ergonomic design enhances overall user control and comfort while reducing fatigue.
Use the MAKERX Hub to connect to any 20V Power Share battery to power the MAKERX series of go-anywhere creative tools.
*20V battery (WA3520) and MAKERX Hub (WA7150) not included
No-Load Speed
5,000 - 35,000 RPM
Collet Size
1/8 in. and 3/35 in.
(4) - Silicon Carbide Grinding Stones
(4) - Engraving Points
(1) - Spanner Wrench
(1) - Wheel Mandrel
(5) - Cutoff Wheels
(5) - Sanding Discs
The MAKERX Rotary tool ships with a 1/8 in. collet, and can use any standard collet on the market.
The MAKERX Rotary tool accepts all standard rotary tool accessories, provided the proper collet is in place.

Multiply Your Creativity
MAKERX is a system of portable, powerful, and precise crafting tools. It puts the power you need into compact and ergonomic tools that you can take anywhere to make anything. Make your world more beautiful with MAKERX.
Accessorize

Powerful & Precise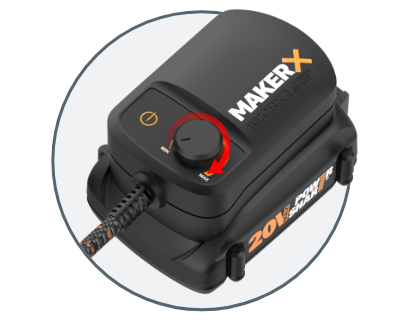 Pick Up the Pace
Go from 0 to 5,000 to 35,000 RPM, which is as fast as any cordless rotary tool.
Made to Mind the Details
The slim design lets you grasp it like a pencil when you need to so you can make very intricate movements.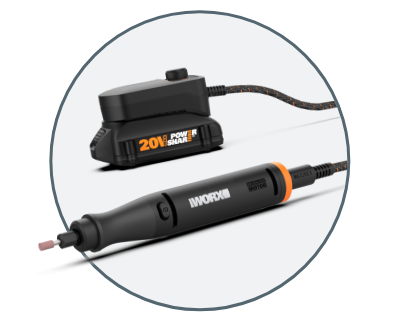 Take Your Power with You
The Hub goes where your tool goes. That's 20V of portable power that doesn't need to be near an outlet.
Take your crafting to the next level with the 20V MAKERX Rotary Tool. With the MAKERX Hub, this rotary tool can go anywhere and deliver performance that can compare with any corded Dremel tool in its class. The brushless motor can deliver up 35,000 RPM and with the WORX 20V battery, you get plenty of runtime.
For precision craft tools, this is the best rotary tool you will find. You can control the speed of the bit from the MAKERX Hub and the micro-ergonomic design offers fine precision for tasks that require great detail. This hobby tool from WORX also comes with a universal fit system, so you can use bits and attachments from other manufacturers.
With the right attachments, the MAKERX rotary tool is ready to tackle all sorts of jobs. This power tool with a rotating blade is good for cutting, polishing, grinding, sanding and more. When you buy this piece of craft hardware, it comes with the basic accessories to help you get started. This rotary tool from WORX comes with five cutting wheels, five sanding discs, four engraving points and four silicon carbide grinding stones.
For an easy to use crafting tool that can go anywhere, the MAKERX rotary tool is hard to beat. Add in some of the other tools that work with the MAKERX Hub and you will have a versatile hobby toolkit that can help you complete or enhance a wide range of projects.