3 Year Warranty
30 Day Guarantee
Details
Safely clean gutter debris while standing on the ground.
Up to 11 foot reach and 8 feet of tubes.
Easily assembled and designed to provide premium airflow.
Universal fit for most handheld leaf blowers excluding Turbine Fusion Blowers.
Tubes screw together for desired length and stability.
*NOT compatible with Turbine Fusion Blowers.
(3) - Gutter Tube Extension
(1) - Gutter Tube Adapter
The Gutter Cleaning Kit is an easy-to-use accessory specially designed to make cleaning gutters as effortless as possible and without the use of a ladder! This easy-to-assemble accessory fits on most handheld leaf blowers, like the Worx AIR Cordless Blower/Sweeper or Electric Leaf Blower, Mulcher and Vacuum to give you an 11 foot reach to blow leaves and debris out of your gutters while keeping your feet firmly on the ground.
The Gutter Cleaning Kit is designed to fit most handheld leaf blowers, both gas and electric, and when you upgrade to almost any WORX blower in the future! For the ultimate in versatility and more fit options, check out the Universal Gutter Cleaning Kit.
The Gutter Cleaning Kit is easy to use and can be installed without tools in just minutes. The tube sections screw together with the angled tube at the top and attach to your blower. Angle the top into the gutter and turn on your blower. It's that easy!
The tube on the Gutter Cleaning Kit will give you an 8 foot reach when using your compatible blower.
The Gutter Cleaning Kit was designed to be both lightweight and durable to give you the user-friendly experience you've come to expect with Worx products. This accessory only weighs 2.6lbs to the total weight of your compatible blower.
The Gutter Cleaning Kit was designed with easy storage in mind and, as a result, comes in easy-to-assemble pieces. Assembly will take less than 5 minutes and requires no tools.
Regardless of the tool or job at hand, we recommend that our customers follow standard safety precautions while using our tools, including wearing safety eyewear, gloves, appropriate shoes and clothing, and keeping hair tied back. Always refer to the owner's manual for complete safety information before operating any tool.
If you decide the Worx Gutter Cleaning Kit isn't the right tool for you, we offer a 30-day Money Back Guarantee from date of receipt (less shipping and handling). Please call our customer service center at 1-866-354-9679 (WORX) and we'll be happy to assist. View more information here.
Parts subject to normal wear and tear are not covered by the tool's warranty. View more information on our warranty here.
Many replacement parts are available online under Accessories.
CALIFORNIA PROPOSITION 65 WARNING:
This product can expose you to chemicals including lead, phthalate or bisphenol A which are known to the State of California to cause cancer, birth defects or other reproductive harm. Wash your hands after use. For more information go to www.P65Warnings.ca.gov.
PROPOSITION 65 DE LA CALIFORNIE AVERTISSEMENT:
Ce produit peut vous exposer à des produits chimiques, incluant au plomb, au phtalate ou au bisphénol A, qui sont reconnus dans l'Ètait de Californie comme pouvant causer un cancer, des anomalies congénitales ou d'autres dommages à l'appareil reproducteur. Assures-vous de bien vous laver les mains après usage. Pour en savoir plus, veuillez consulter le site www.P65Warnings.ca.gov.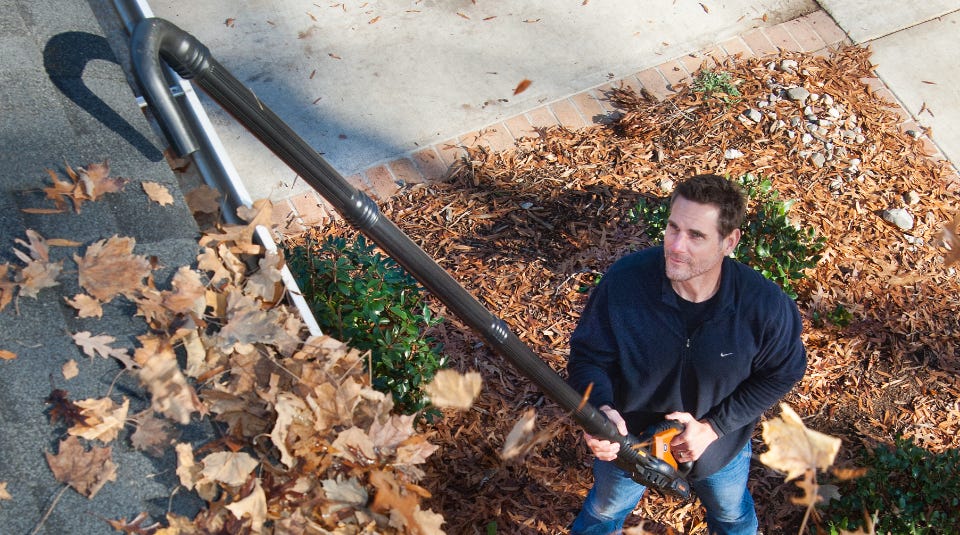 SAFER GUTTER CLEANING
Safely clean your gutters up to 11 feet high while standing on the ground - no ladder needed. Universal fit for most handheld leaf blowers.
FREQUENTLY PURCHASED TOGETHER