40V Power Share 4.0Ah 14" Cordless Lawn Mower (Tool Only)
5 Year Warranty
30 Day Guarantee
As low as
$179.99
Regular Price
$179.99
Details
14" 40V Max Lithium-ion Cordless Mulching Lawn Mower with 2 removable 20V 4.0Ah Power Share batteries and IntelliCut™ technology.
IntelliCut™ feature provides torque on demand for tougher conditions.
Mows up to 5,500 sq. ft. on a single charge.
Lightweight and compact—easy to maneuver and easy to store.
*Battery and charger NOT included.
Rated Voltage
40V (2X20V) MAX
Max Cut Area/Charge
5,000 Ft²
Cut Height Range
1.5-3.5 in.
Grass Bag Capacity
0.85 Bushels
(1) - Grass Collection Bag
No, this model does not come with a battery and a charger.
This lawn mower is not self-propelled, but is still agile and easy to work with.
The deck width is 14 in. and the cutting width is 13 in. to deliver great cutting efficiency for smaller yards.
This lawn mower's cutting deck is made of durable, lightweight plastics making it highly maneuverable and lighter than its metal counterparts.
You can adjust the cutting height of this Lawn Mower to give you exactly the cut you want. Switch between multiple different cutting height positions with an easy-to-use single-lever adjustment.
The hard-topped grass collection bag features a capacity indicator to let you know when it's full.
This lawn mower can be used with or without the collection bag. If you'd rather not collect your clippings, you can use the rear discharge or mulching feature to feed the trimmings back into your yard to nourish it naturally.
This lawn mower features bag collection and mulching capabilities to help nourish your lawn naturally. Please see our selection of other lawn mowers if you are interested in a side-discharge function.
Patented IntelliCut™ technology is an innovative way of utilizing battery power to best fit the needs of your lawn and maximize your run time. With two modes, Eco and Turbo, IntelliCut™ provides additional torque on demand and the ability to conserve battery when desired.
While your lawn mower is powerful enough to handle wet grass, we don't recommend mowing wet grass. Wet grass can inhibit cutting performance, form clumps that interfere with the mulching action and/or reduce runtime. For best performance, wait until the grass dries before cutting.
Since this lawn mower is designed for easy, compact storage when not in use, it's shipped to you in a similar configuration to save on shipping. There is some minor assembly required, but will take less than 5 minutes and will not require any tools.
Changing blades on this lawn mower is easy! You'll need protective hand gloves and a spanner wrench to remove the blade. For detailed instructions and illustrations, review the owner's manual.
Storing the mower outside is not ideal and is not recommended. Worx lawn mowers fold into a compact shape to make storage in your garage or shed easy. For more information about folding down the mower for storage, review your owner's manual.
While 20V Power Share allows you to share batteries between tools within the same voltage family, batteries should only be used with tools of a corresponding voltage. Use your 20V MAX Lithium battery with any 20V WORX tool.
40V 14" LAWN MOWER
GREENER, CLEANER, LEANER
The WORX WG779 14" Mower costs less to operate and is cleaner for the environment. Plus, modern controls and technology means you can cut your lawn more efficiently.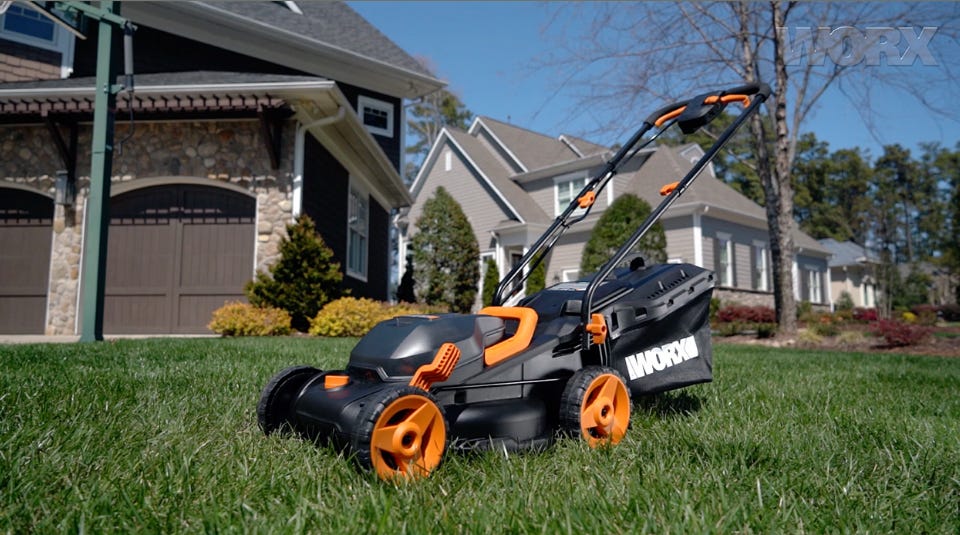 FREQUENTLY PURCHASED TOGETHER
A BETTER MOWER FOR A BETTER LAWN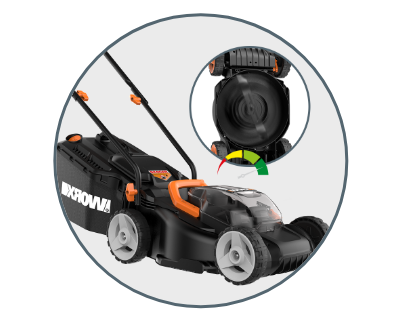 CUT YOUR GRASS INTELLIGENTLY
This mower has a lot of power. IntelliCut™ manages that power, so you can dial down energy usage when the land is flat and the grass is easy, but dial it back up when the mowing gets tougher.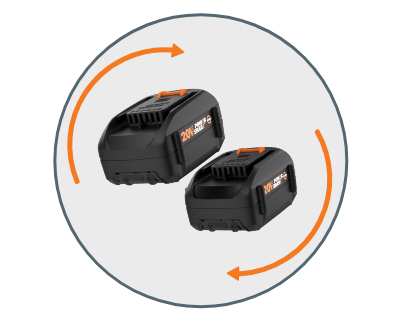 DOUBLE TIME
Two 20V 4.0Ah Power Share batteries means greater power to mow more efficiently. And you can share these batteries with other WORX Power Share tools in your arsenal.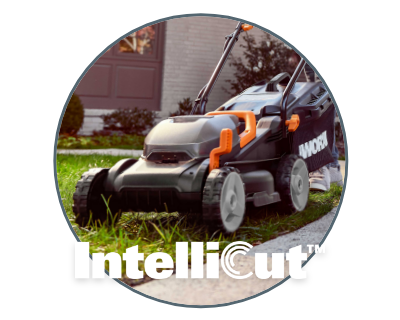 A CUT ABOVE, OR BELOW
6 different levels of cutting height adjustments let you customize your grass length. So depending on the season, or just your preference, you can flip the lever to cut from 3.5" down to 1.5".