AIR 7-Piece Attachment Kit
No Warranty
30 Day Guarantee
Details
Create and maintain a Clean Zone in your home with these 7 attachments.
Uses include clearing spider webs, cleaning window sills, inflating & deflating toys, and auto detailing.
Includes a mesh carrying bag for easy storage.
Easily switch between attachments without tools.
Compatible Models
WG545 Series, WG565 Series, WG575 Series
(1) - Deflation Cone Cover
This model (WA4091) has accessories that attach to WORX series WG540, WG545, WG565, and WG575 blower/sweeper models to form a multi-purpose cleaning and clearing machine. The convenient attachments create a clean zone around the entry points to your home. Did you know, 85 percent of the dirt in your home is tracked, blown, or carried in from entry points like your garage, deck, porch or workshop? With the WORXAIR, clean-up is easier and faster when you don't have to move a single thing. The Worx Air attachment kit has all kinds of attachments for cleaning, clearing, sweeping, dusting, inflating, deflating, and even drying all sorts of things around your home. It is an ultra-fast cleaning system! Create that clean zone around your home with a flexible tube and a variety of nozzles designed to reach tight spaces for detailed clearing and cleaning of debris.
This model (WA4091) includes:
(1) - SHORT TUBE
(1) - DUST BRUSH
(1) - EXTENSION HOSE
(1) - DUST NOZZLE
(1) - INFLATOR NOZZLE
(1) - WIDE NOZZLE
(1) - DEFLATION CONE COVER
The WORXAIR attachment kit comes with 7 attachments: short tube, dust brush, extension hose, dust nozzle, detail brush, inflator nozzle, deflation cone cover, and wide nozzle. Use the inflator nozzle to blow up mattresses and pool toys. The WORXAIR attachment kit even comes with a deflator cone to quickly and easily deflate those bulky inflatables in the home, for the RV, or boat. Outside the home, the dust brush is excellent for clearing spider webs, cleaning window sills from pollen and dirt, and sweeping sills. The wide nozzle creates a wide airflow for drying flat surfaces or sweeping wider areas. Also, the WORXAIR is a great auto detailing companion. Use it to dry wheels and tires, and even your entire car.
You can download the manual here.
Regardless of the tool or job at hand, we recommend that our customers follow standard safety precautions while using our tools, including wearing safety eyewear, gloves, appropriate shoes and clothing, and keeping hair tied back. Always refer to the owner's manual for complete safety information before operating any tool.
If you decide the Worx AIR Gutter Cleaning Kit isn't the right tool for you, we offer a 30-day Money Back Guarantee from date of receipt (less shipping and handling). View more information here.
Parts subject to normal wear and tear are not covered by the tool's warranty. View more information on our warranty here.
Many replacement parts are available online under Accessories.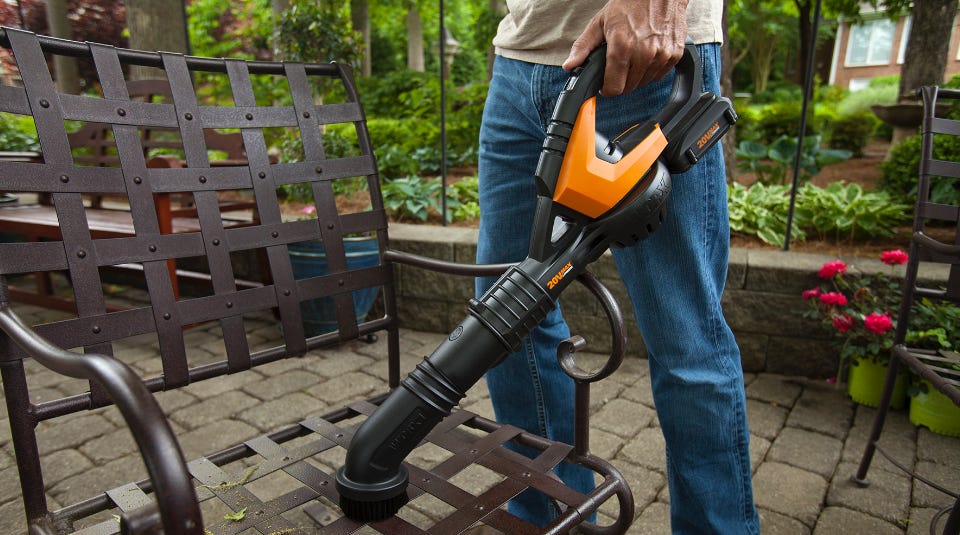 CREATE & MAINTAIN A CLEAN ZONE
Use these 7 attachments to clear spider webs, clean window sills, inflating toys, and even detail cars.
FREQUENTLY PURCHASED TOGETHER