Hydroshot Deluxe Cleaning Kit
No Warranty
30 Day Guarantee
Details
Compatible with all Hydroshot models.The Hydroshot deluxe cleaning kit includes everything you need to clean your home, car, or boat.
This kit includes a squeegee, soap dispenser, pivoting quick-connect adaptor, and adjustable outdoor power scrubber brush with hard bristles.
Designed for use with your house, boat, patio furniture & more to loosen dirt in hard-to-reach areas.
13.5 oz. container for your soap mixture.
Compatible with all Hydroshot models.
Compatible With
WG620, WG625, WG629, WG629.1, WG630, WG640, WG644, WG649
(1) - Hydroshot Squeegee (WA4050)
(1) - Hydroshot Soap Dispenser Attachment (WA4036)
(1) - Hydroshot Outdoor Hard Surface Brush (WA1821)
(1) - Hydroshot Pivoting Quick Connect Adapter (WA4039)
This is a 12 in. window squeegee with interchangeable blades to enhance your Hydroshot's cleaning power. This model (WA4050) attaches directly to your Hydroshot and includes water spraying capabilities to help penetrate stubborn dirt and dust and finish up your window cleaning with a streak-free shine.
Yes! This can be used as a hand-held accessory without the water spray. It will work as a regular squeegee for you now, and you'll get even more out of it when you get your Worx Hydroshot!
The accessories are compatible with all Hydroshot models.
While there aren't any specific hazards related to the Worx Hydroshot, we recommend that all our customers follow standard safety precautions while using our tools or performing maintenance on them – including wearing safety eyewear, gloves, appropriate shoes & clothing, and keeping hair tied back. See your owner's manual for complete details.
Remove the battery from your Hydroshot. The 12" Window Squeegee with Water Sprayer can be installed on either the the power nozzle or the extension lance, depending on the job at hand. Once the lance has been installed on your Hydroshot, install the squeegee into the end and twist to secure in place. For specific instructions with illustrations and for additional safety information, please refer to your owner's manual.
Absolutely. This model attaches to the Hydroshot for the water spraying capabilities, but it can be used as a hand-held squeegee at any time, anywhere, with or without your Hydroshot.
NOTE: The water spraying feature will not be availble without attaching the squeegee to your Hydroshot.
The Soap Dispenser Attachment can be attached directly to the Hydroshot for lower pressure applications or can be used in addition to the extension lance for higher pressure applications.
We made cleaning easier by taking out an extra step! There's no need to mix soap or other cleaning agents in the Soap Dispenser before using it. The water from the Hydroshot will mix with it as it dispenses.
The Hydroshot Soap Dispenser Attachment can hold up to 13.5oz of your soap mixture or other cleansing agent.
The Worx Hydroshot is designed to work with clean water sources, and using chemicals, cleansers and soaps through it will void the warranty. The Soap Dispenser Attachment is designed to let you up your Hydroshot's cleaning game without affecting the longevity or performance of your tool.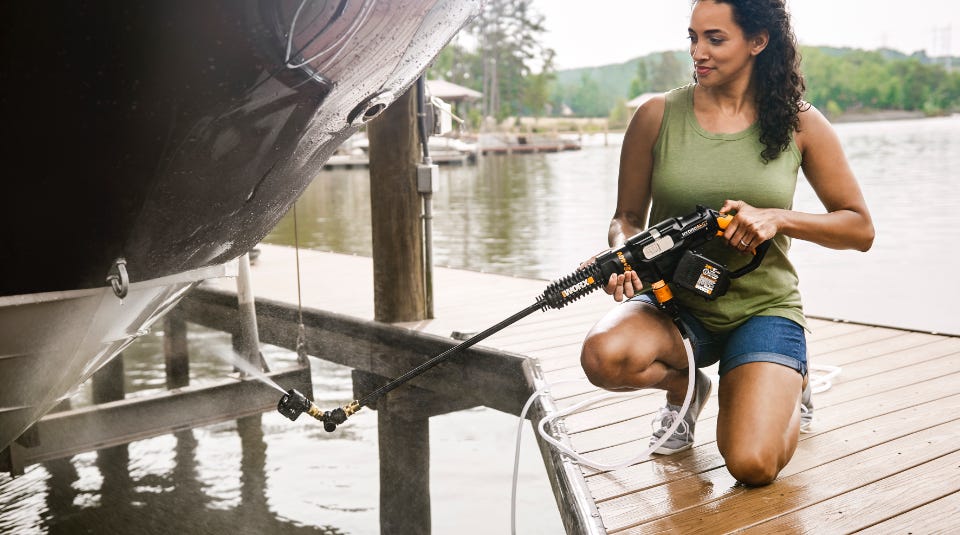 CLEAN YOUR SPACES SPOTLESS
The Hydroshot is a remarkable tool all on its own. But you'll multiply its functionality with this kit. Clean your outdoor spaces and vehicles better, and in less time.
FREQUENTLY PURCHASED TOGETHER