20V 10" Cordless Chainsaw and TURBINE Blower Combo Kit
3 Year Warranty
30 Day Guarantee
Details
The perfect chainsaw/blower combo kit for cleaning up after storms or clearing out overgrown parts of your property.
This 20V Power Share Cordless Chainsaw is fast, compact, and perfectly sized for residential use.
The automatic, tool-free chain tension system ensures you'll always have the correct tension for the job at hand.
The automatic chain lubrication system not only makes for smoother, more efficient cuts, it extends the life of the tool. And the oil level indicator lets you know exactly where you stand.
TURBINE fan tech makes this leaf blower powerful yet quieter than gas blowers—the best of both worlds.
2 speeds allow you to go slow for pavement or tight corners, then switch to speed 2 on the open lawn and see what 75 MPH of TURBINE blowing power can do.
360 CFM (Cubic Feet per Minute) come streaming out of this wide-mouth tube. That's high-capacity air volume, so you clear your property in fewer passes and with less leg work.
Do It All With Power Share Batteries−Worx Power Share intelligent batteries maximize power, performance and run time and are compatible with all Worx 20V, 40V and 80V tools, outdoor power and lifestyle products.
WG322.9 TECHNICAL SPECIFICATIONS
WG547.9 TECHNICAL SPECIFICATIONS
(1) - 20V 10" Cordless Chainsaw (WG322.9)
(1) - 20V TURBINE Blower (WG547.9)
(1) - 20V 2.0Ah Battery (WA3575)
(1) - 20V 2A Charger (WA3881)
The Worx 20V 10" Cordless Chainsaw weighs 6.2 pounds, less than a gallon of milk.
Yes, the combo kit comes with one 20V 2.0Ah battery and a 2-amp charger.
The run time will vary depending on the type and density of wood you're cutting and how thick the branches are for each cut and the capacity of the 20V battery you're using. For example, on one charge of our 1.3Ah 20V battery, you can expect up to 23 cuts on 4" thick hardwood. Since most branches you'll cut are less than that, you'll typically get a higher yield. If you know you need extra power, try keeping an extra battery on hand. Worx also offers higher capacity batteries as well as quick charger. Accessories can be found here.
Yes! It will power every 20V Power Share tool on the platform. And when combined with other Power Share batteries, it will operate every 40V and 80V tool and outdoor power product as well.
Worx has an entire line of TURBINE products, some of which are battery operated and some of which are electric to offer the solution that best meets your needs. The Blower in this combo is battery powered.
CFM stands for "Cubic Feet per Minute" and is the measurement of air flow that is used to describe the volume of air that the blower is capable of moving. The higher the CFM, the more air the blower is capable of pushing through the tube.
Each blower comes with some minor assembly required, but takes less than 3 minutes and will not require tools.
Get to Know the 10" Chainsaw & TURBINE Blower Combo Kit
20V Power Share 10" Cordless Chainsaw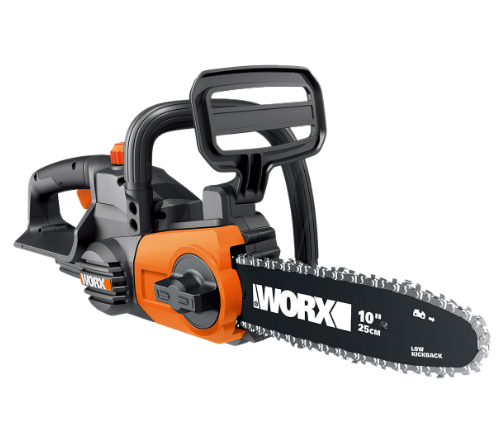 Overmold soft-grip handle
Auto-chain oiler with oil level window
Compact and lightweight design
Auto-tension system keeps chain tight
20V MAX Power Share battery
20V Power Share TURBINE Cordless 2-Speed Blower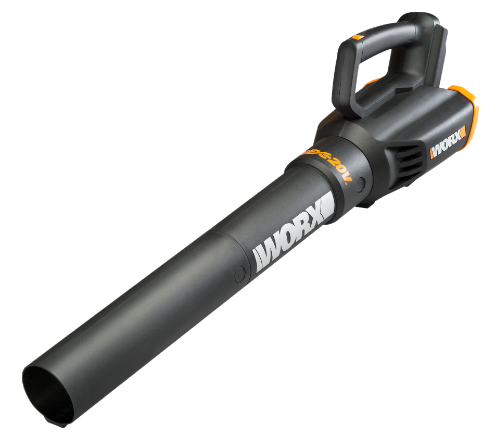 270/360 CFM air volume
55/75 MPH air speed
Compact and lightweight design
One-hand operation
2-Speed control
Rubber over mold grip