20V MAKERX Air Brush - Tool Only
3 Year Warranty
30 Day Guarantee
Details
Air brush for use with the MAKERX system of portable crafting tools.
Easy to control dual function switch regulates both the airflow and paint volume of the portable paint sprayer with a single trigger.
Precision nozzle for small and detailed painting applications.
Micro-ergonomic design enhances overall user control of the air brush for various applications.
Use the MAKERX hub to connect to any 20V Power Share battery to power the MAKERX series of go-anywhere creative tools.
*20V battery (WA3520) and MAKERX Hub (WA7150) not included.
Pressure Value
14 PSI - 18 PSI
Pump Type
5,000 - 20,000 RPM
(1) - Dropper
(1) - Spanner Wrench
(1) - Cleaning Brush
Paint designated for the application is best. Make sure the paint is thin enough to pass through the nozzle without clogging. Clean the nozzle, cup, and cylinder thoroughly after use.
A fully charged 1.5Ah battery will power the Air Brush for about 3 hours of continuous use.

Multiply Your Creativity
MAKERX is a system of portable, powerful, and precise crafting tools. It puts the power you need into compact and ergonomic tools that you can take anywhere to make anything. Make your world more beautiful with MAKERX.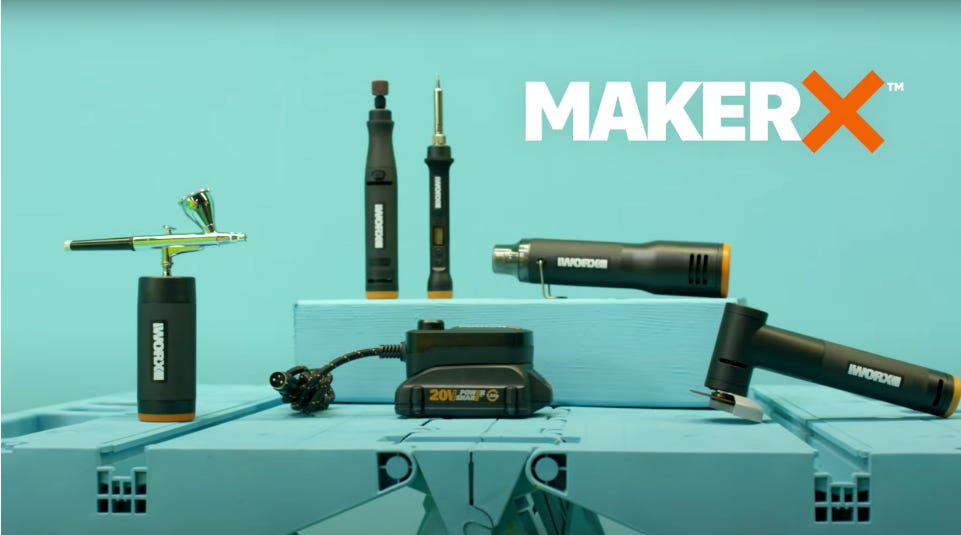 Accessorize

A Powerful Little Paint Sprayer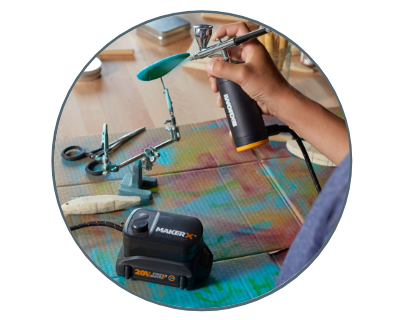 Packs a punch
The only airbrush that runs on a 20V battery—the same one used on WORX Power Tools, lawnmowers, and hedge trimmers.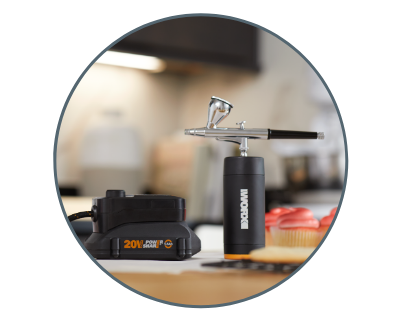 We Threw in Some Extras
Comes with a dropper, a spanner wrench, and a cleaning brush so you have the accessories you need to get started.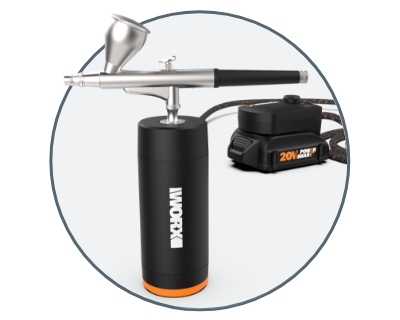 Go Anywhere Creative Tool
The Hub goes where your tool goes. That's 20V of portable power that doesn't need to be near an outlet.
*MAKERX Hub sold separately.