Nitro 40V Power Share PRO LEAFJET Cordless Leaf Blower with Brushless Motor
5 Year Warranty
30 Day Guarantee
As low as
$139.99
Regular Price
$139.99
Details
Proven Power—Worx NITRO™ tools are built for pro-level performance to elevate power, speed, and productivity on every task.
High-performance battery-powered leaf blower in a compact, efficient configuration with high-speed in-line motor.
High-Efficiency Brushless Motor 2.0 delivers 40% more power and 10% longer run time than first-generation brushless motors, as well as 10X longer life than standard brushed motors.

Ultra-lightweight 40V leaf blower for improved user experience and less fatigue.
Sonic Turbine Fan Technology: 620 CFM blower delivers forceful, high-capacity air volume of 125 MPH.
Dual air intakes pull in additional air for greater air volume output.
Variable Air Control Nozzle allows for choosing high-volume or high-speed air for various applications.
2 speeds plus turbo for added control of the 620 CFM blower in tight spaces or large areas. Charge level indicator provides quick reference of remaining runtime.
Worx Power Share™ PRO intelligent batteries deliver extended run times, plus heat and impact protection. Compatible with all Worx 20V and 40V tools, outdoor power and lifestyle products.
MAX Air Volume (w/ booster)
620 CFM
MAX Air Speed (w/o booster)
165 MPH
Machine Weight
6.6 lbs. | 3.8 lbs. (bare tool)
Technologies
High- Speed Brushless Motor, Variable Air Control, Sonic Turbine
(1) - 4A Dual-Charger (WA3884)
Volume Mode: Moves more air for high-capacity leaf blowing.
High-Speed Mode: Enhanced performance moving wet or embedded leaves.
Depress the orange tab to slide the Variable Air Control Nozzle forward or backward. Forward: utilizes the larger nozzle to blow air, while also drawing more air through the secondary air intakes. Backward: utilizes the narrower, central tube for blowing more high-speed, concentrated airflow.
Worx is leading the charge in leaf blowing technology. The high-speed in-line motor is smaller, lighter, more powerful, and allows for a slimmer, narrow configuration, making it lighter and easier to use.
Yes, again, the high-speed motor allows for a smaller, innovative configuration. Bigger doesn't always mean more power—check out the CFM and MPH—the specs don't lie. This is pushing 620 CFM and 125 MPH.
The Power Share™ PRO series of Worx high-capacity batteries are designed for optimal performance and come standard with the Worx NITRO™ product offering. These batteries utilize an intelligent battery management system that monitors each cell to enhance, power, performance, and runtime.
Innovative, thermoplastic material encases each cell to pull heat away and maximize the cell's performance, resulting in longer runtime.
360° cell protection provides increased security against vibration, drops, and water intrusion. This full-wrap design limits the influence that a compromised cell can have over the rest of the battery pack.
No. The Worx Power Share™ PRO batteries can be used on all existing Worx 20V MAX chargers (WA3742, WA3881, WA3764, WA3770, WA3884, WA3835).
No. The batteries require the same amount of charge-time as the standard Worx Power Share™ batteries. However, due to the Cell-Cooling Technology in the Power Share™ PRO batteries, they stay cooler, longer. As a result, less wait-time is needed before a battery can start charging, due to high temperature.
Accessorize

Stronger & Compact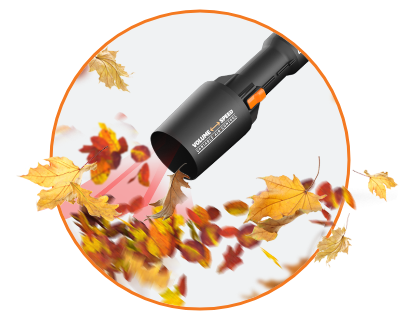 620 CFM Blower
This 40V leaf blower offers gas-like performance and runtime. It's a unique combination of power & portability, unlike anything else on the market.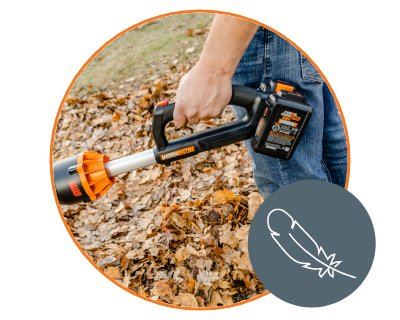 Ultra-Lightweight Blower
Less than 7 lbs. with both batteries attached, so pretty much anyone in the family can use the Worx NITRO™ LEAFJET around the yard. And you can use it for long stretches without getting fatigued.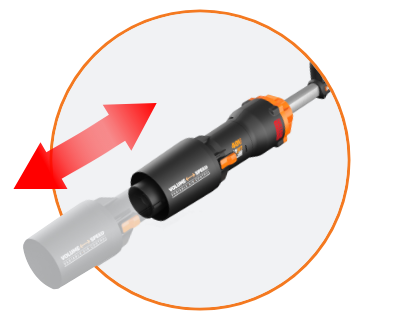 Dual mode variable air control
Do you need more air volume for the open lawn? Slide the revolutionary Variable Air Control Nozzle forward. Need more speed? Slide it back.