Nitro 80V Brushless Cordless Backpack Leaf Blower
5 Year Warranty
30 Day Guarantee
As low as
$699.99
Regular Price
$699.99
Details
Proven Power—Worx NITRO™ tools are built for pro-level performance to elevate power, speed, and productivity on every task.
Innovative 80V backpack leaf blower powered by (4) 20V 5Ah Power Share™ PRO batteries.
Variable speed control, plus Turbo mode for added control in both tight spaces and large areas.
Featuring a high efficiency brushless motor that runs 50% longer, is 25% more powerful, and has 10% longer life when compared to brushed motors.
Dual air intake pulls in additional air for greater air volume output.
Sonic turbine fan technology delivers 800 CFM of forceful, high-capacity air volume.
Base Camp portable/transferrable power source and 4-port charger powers blower, charges all 4 batteries at once, and offers the compatibility to power other Worx 80V tools.
The high-speed motor is compact, powerful, and easy to maneuver to clear larger spaces faster.
Same Battery, Expandable Power. The same battery powers over 75+ 20V, 40V, and 80V lifestyle, garden, and power tools in the Power Share™ family.
Blower Force (N)
Turbo 22 / High 16
(1) - Nitro 80V Backpack Blower
(4) - 20V 5.0Ah Batteries (WA3571)
The base camp power source is a removable power system that is powered by (4) 20V batteries. Base Camp can be removed from the backpack leaf blower and with the use of of the included power cord can charge all 4 batteries at once. Base Camp is also transferrable and can be used to power other Worx 80V tools.
This cordless backpack leaf blower comes with (4) 5.0Ah removable batteries. Although the leaf blower will run on 2.0Ah Power Share batteries, for the optimal run time we recommend using 5.0Ah Power Share batteries.
The Backpack Blower will run for approximately 230 minutes on the low setting.
The decibel rating is 83 dB.
This backpack blower uses (4) 20V Power Share batteries and will not work with less than 4 batteries.
Worx Nitro is a line of high-performance battery-operated tools from Worx. These tools have features like brushless motors, offer extended runtime and greater performance/specs than standard battery-operated tools. This backpack leaf blower is perfect for larger yards or small to medium-sized commercial applications.
Volume mode: Move more air for high-capacity leaf blowing.
High speed mode: Enhanced performance moving wet or embedded leaves.
Slide the Variable Air Control nozzle forward or backward. Forward-utilizes the larger nozzle to blow air, while also drawing more air through the secondary air intake. Backward-utilizes the narrower tube for blowing more high speeds, concentrated airflow.
Each leaf blower comes with some minor assembly required, but takes less than 3 minutes and will not require tools.
CFM stands for "cubic feet per minute" and is the measurement of air flow that is used to describe the volume of air that the blower is capable of moving. The higher the CFM, the more air the blower is capable of pushing through the tube. The max CFM of this blower is 800.
This blower does not include a vacuum or mulching feature. However, we do offer a large lineup of 3-in-1 Blower, Mulcher, Vacuums for your yard work demands.
Accessorize

Frequently purchased together
80V of Leaf Clearing Power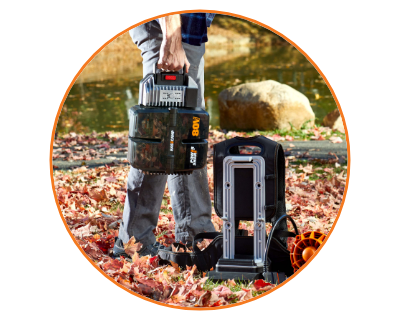 Innovative Design
The powerful, yet lightweight design makes it even easier to clear large spaces fast.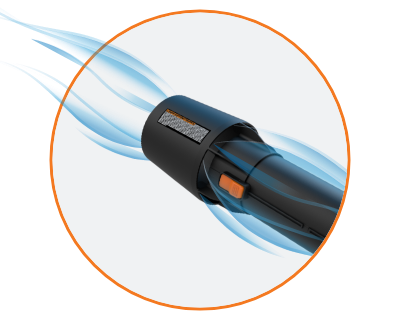 Dual Air-Intake
The dual air-intake pulls in additional air for greater air volume output and blowing power.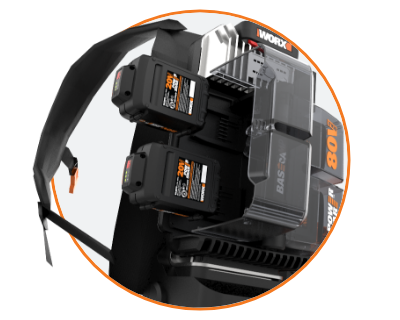 Base Camp
The innovative Base Camp removable power source powers the blower, charges all 4 batteries with the included cord, and is interchangeable to power any Worx 80V tool.